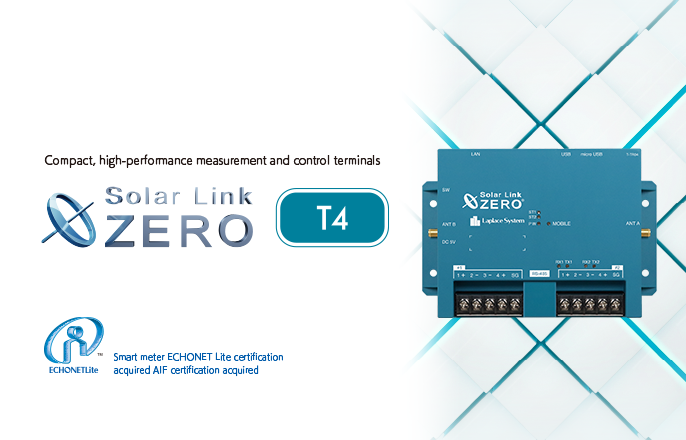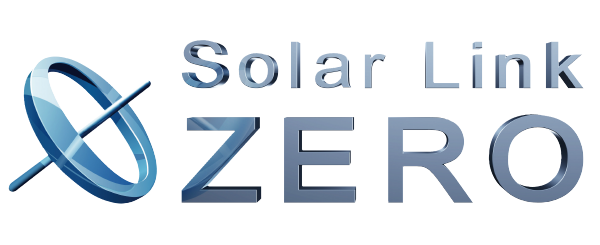 Solar Link ZERO is a compact measurement and control terminal based on a small PC. It measures and stores the power generation status of solar power generation in real time, and controls PCS and devices. The measurement and control data can be uploaded to the server via wired LAN or wireless communication, and can be used for remote monitoring and PR display. This system is highly scalable and can be used in a wide range of situations by combining it with various products and options.
Measurement
Equipped with 2 ports of RS-485 input/output, it is capable of PCS measurement of up to 30 units in 2 systems. It also supports a wide range of smart meter, analog, contact, and pulse signal measurements.
*Depending on the PCS, the measurement interval may be changed or the number of connections may be limited.
Control
PCS output can be controlled ON/OFF according to the purpose and scene. The data related to the control is uploaded to the server and can be checked from the remote monitoring screen.
Communication
It can be connected to a network by wired LAN or wireless communication, allowing you to choose the connection method that best suits your location and situation. If wireless communication is selected according to the installation location, there is no need for line construction or wiring. Uploaded data can be displayed on the remote monitoring screen.

Remote monitoring using LTE communication and automatic control of power generation according to power consumption. It has a compact housing that can be installed in a small space and can measure analog and pulse signals, etc.
Function
PCS communication
It measures detailed data for each PCS and each string via RS-485 communication.
self-consumption
By controlling power generation in accordance with power consumption, the system suppresses reverse power flow due to excessive power generation and maximizes power generation.
LTE communication
Uploading measurement data to a remote monitoring server via LTE line.
*LTE communication function is a paid option.
Space-saving installation
The compact housing allows for space-saving installation in accordance with the equipment.
Connect with FLIPLINK
Smart Terminal Block Measure analog and pulse signals, etc. measured by FLIPLINK.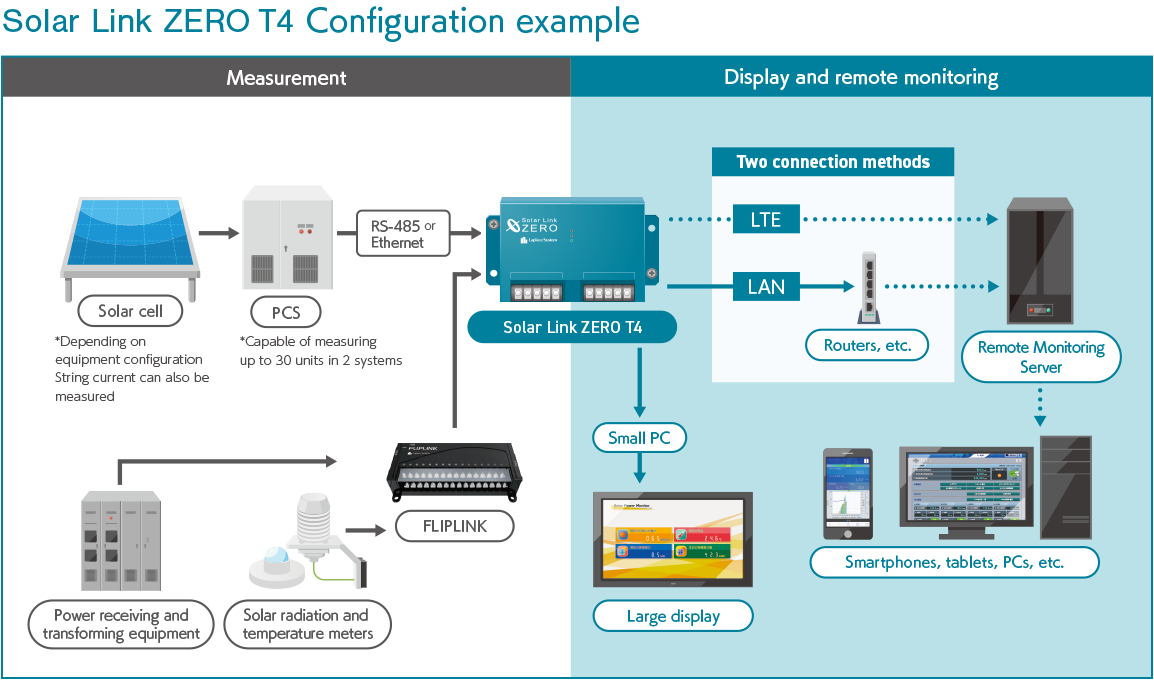 This is a small and simple terminal block type remote I/O born from the idea of integrating a terminal block and a measuring instrument. Four models are available: solar radiation and temperature input (ST), contact and pulse input (DI), contact output (DO), and analog input (AI), and they measure and output signals by communicating with Solar Link ZERO.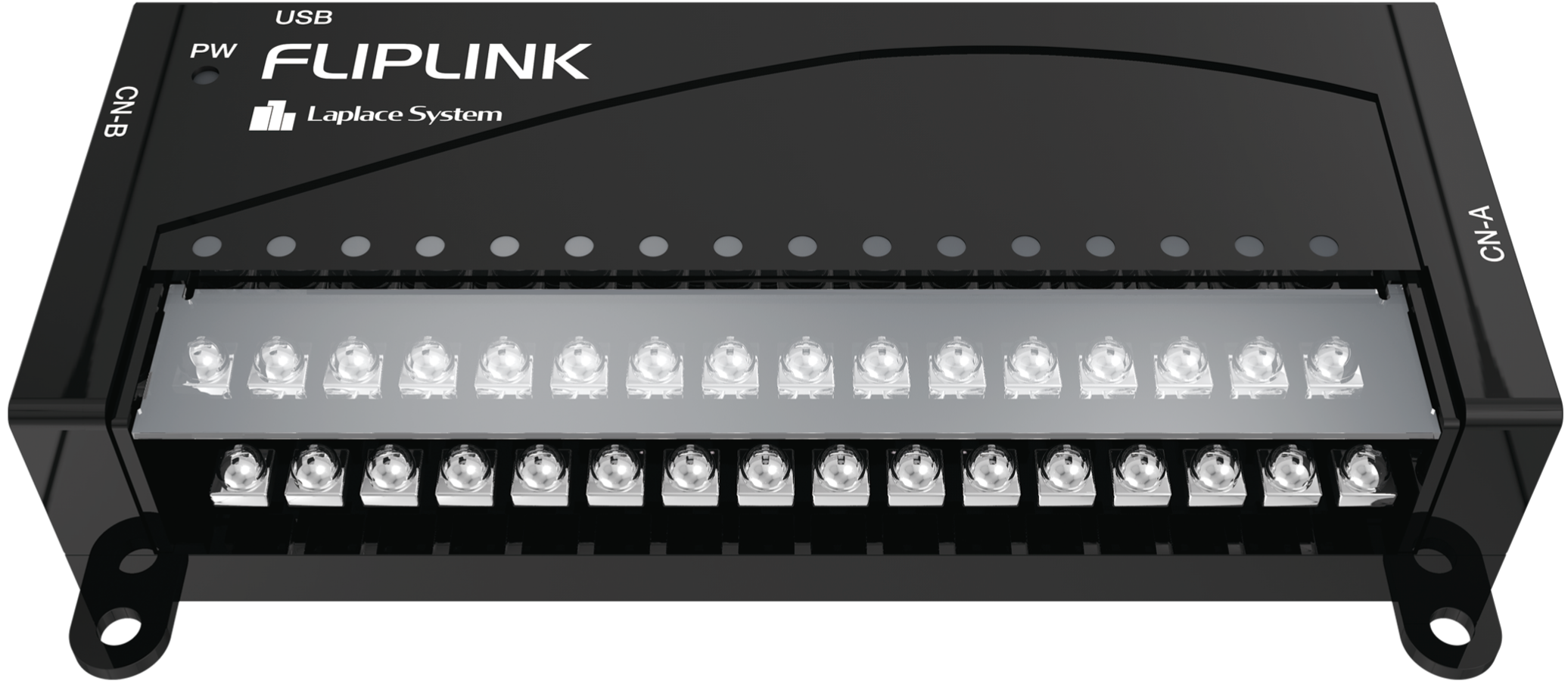 Wide range of applications
L-eye monitoring screen
The L・eye monitoring screen displays the data measured by ZERO and sends out e-mails in case of abnormalities. You can also use the "L・eye Monitoring App" for smooth remote monitoring with your smartphone, and the "L・eye Integrated Monitoring" that specializes in monitoring multiple power plants.
Local Display
Connect the Solar Link ZERO to a small PC and display it on the display via HDMI output from the PC. It can be used for on-site monitoring and simple PR display. It also supports display items that match the system configuration, such as storage batteries and trading power.
* This is a paid option.
* The "Camera Image Option", "Web Camera Set", and "Line Sharing Set" cannot be used together.

Specifications
Specification list
Name
Solar Link ZERO T4
Appearance
Terminal
Type
Solar Link ZERO-T4
CPU Core
ARM Cortex-A53
Operating frequency
1.2GMHz
RAM
1Gbyte LPDDR2
Flash memory
8Gbyte eMMC
Ethernet
Wired: 10BASE-T/100BASE-TX (RJ-45)
serial port
RS-485 input/output port (5Pin terminal block x2)
Isolation specification (withstand voltage 500V or more)
Size
W152xD102.4xH46.6mm(excluding protrusions)
Power supply
DC5V less than 2A
Power consumption
10VA (maximum)
Operating temperature
-20 to 60°C (Humidity: 85%RH or less, no condensation)
Weight
Approx. 350g
communication
LTE wireless communication (optional)
Measurement
Number of PCS connections
maximum 30 (system)
* This may limit the measurement interval and the number of PCS connected.
Measurement object
Various PCS, various string measurement devices, various storage batteries, remote I/O
*Please contact us for details.
Contents
Contents
Solar Link ZERO main body
Dedicated AC adapter
USB memory stick
Antenna for communication
Installation manual, instruction manual, etc.
Function List
Data Management
Save in
ASP service (L・eye monitoring screen) or USB memory stick
Data formatting
CSV format
Screen Related
Display screen type
Measurement screen/conversion screen/graph screen/contents screen x 3 (optional)
Viewing
Via Internet
Remote Monitoring System & Service L-eye Monitoring Screen
Via LAN
Web application functions
Data aggregation system for campus LAN
*Cannot be used in conjunction with remote monitoring system & service L-eye monitoring screen