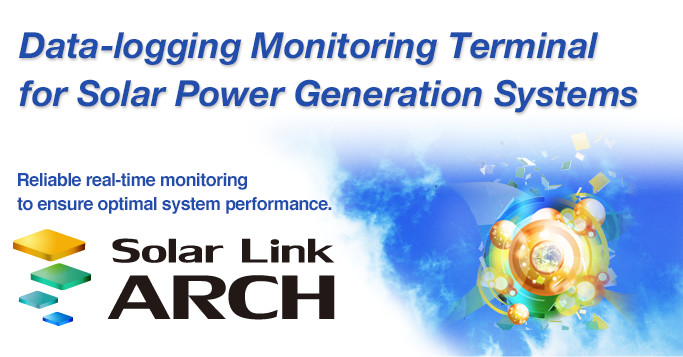 Solar Link ARCH real-time remote monitoring.
We offer an ASP service capable of comprehensively managing information on systems installed at remote locations such as 'mega-solar' systems or systems installed in several different locations such as rooftop lease systems.
Users can easily check on their power generation systems without actually going to the site.


We offer 4 service plans and 2 option plans according to what it is you are monitoring.
* Internet connectivity is the responsibility of the customer and must be prepared prior to starting ASP service contract.


Optional screens / Customizable screens fit to the system.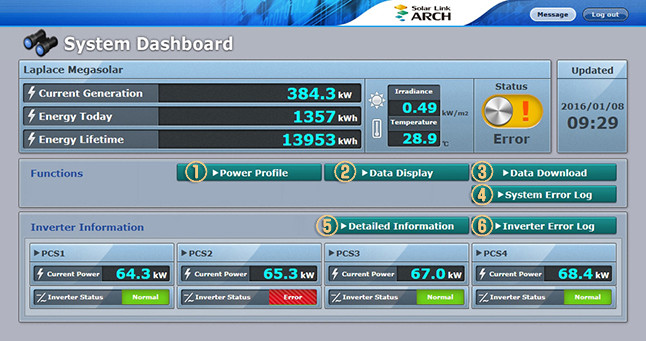 ■ Basic Functions
1. Power Profile Graph

This graph displays the daily AC Power trend on a minute-by-minute basis.

2. Data Display

This screen shows AC Energy, Irradiance, and Temperature data in graph and table format.

3. Data Download

Download monitoring data in CSV form.

4. System Error Log

Check the log of errors and recovery information between monitoring devices and the server, and download it in CSV form. Email alerts can be sent when errors are detected.

5. Inverter Detailed Information

Displays detailed information for each inverter.

6. Inverter Error Log

Check detailed information on errors and recovery in inverters, and download it in CSV form. Email alerts can be sent when errors are detected.
 ■ Optional Functions
Performance Analyzer
Detect errors through 2 methods of analysis, and receive on-screen and email notifications.
Inverter-level and string-level performance analysis.
Analysis method 1

An error is flagged when power output drops while irradiance is normal.

Analysis method 2

Past performance data is continuously compared with current irradiance to benchmark
current performance in real-time.
The "performance index" is the ratio of actual energy output compared to estimated output;
errors are determined by comparing this index to pre-set threshold values.

Web Camera
Install and use a web camera to monitor surroundings and maintain site security.

Inverter Control
Send stop requests to the inverters through the monitoring device.
AC Distribution
AC Distribution Panel information can be displayed on the System Dashboard. Error Logging and email alerts can be enabled for the AC Panel equipment and devices.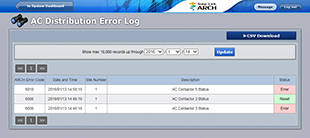 String-level Monitoring
String-level summary and detailed information, as well as error status are shown. Detailed string data can be downloaded.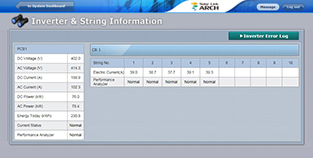 Group Monitoring
Several monitoring sites can be grouped together and monitored as a group.
* Several group screens can be grouped together into an upper-level group and sorted.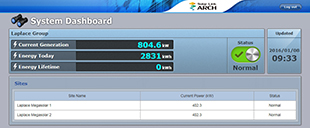 API
Independent third-party applications can acquire Solar Link monitoring data using the API feature.
* The requestor sends a request to Laplace's server at a URL that we specify. Our server then responds by sending the requested data back to the requestor as a response in XML format.
PR Screens
PR Screens display monitoring data using visually appealing animations and graphs. This optional solution is appropriate for public kiosks, building lobbies, educational institutions, etc. We also provide customization services based on your specific needs, for an additional fee.


Solar Link ZERO Terminal and Solar Link Viewer collect Inverter operating status and other important information relating to PV System performance, and sent through a secure internet connection to our cloud server.
ZERO Terminal is recommended in the following situations:
When comprehensive and flexible real-time monitoring is desired, and when local monitoring is not needed or practical.
→ ZERO Terminal is a robust monitoring solution, designed for residential, commercial, and industrial settings.
Real-time monitoring of multiple PV systems and sites is required.
→ ZERO Terminal is compact, and multiple units are easy to deploy & configure.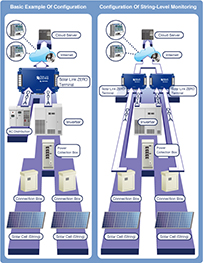 Click to maximize.


* We offer no operation guarantee under other environments.
Supported Operating Systems
Windows 7 (32-Bit/64-Bit)
Supported Browsers
Internet Explorer8~11 / Google Chrome / Mozilla Firefox
Misc.
・Installation of Adobe Flash Player 9 or higher
・Connection to the Internet