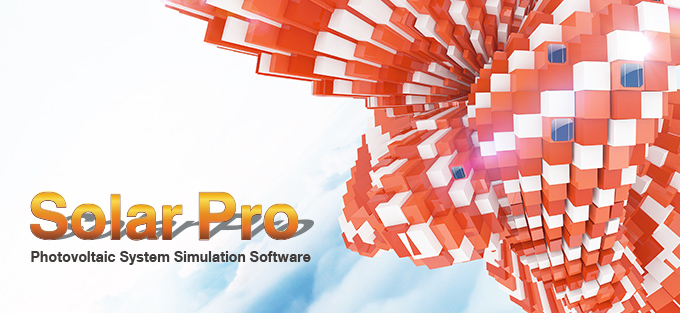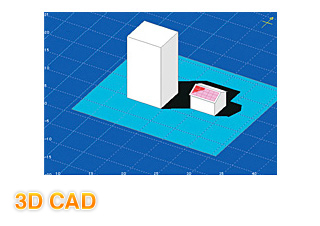 Simulation including the shadow influence by surrounding buildings and objects allows users to check optimal settings and module designs before system installation.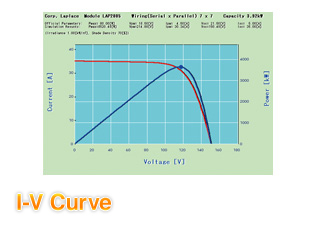 The software calculates the I-V curve of solar modules accurately and quickly based on the electric characteristics of each manufacturer's product.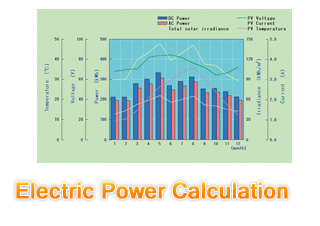 The software calculates the amount of generated electricity based on the latitudes, longitudes, and the weather conditions of the installation site. This leads precise simulation results.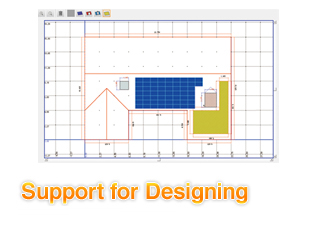 The software determines necessary component for installing PV system automatically based on the settings.




Bing Maps Service*
Insert Bing Maps images into 3D CAD interface to aid in precise design.
Solar Pro can also import screenshots and other image files.
*Bing Maps is either registered trademark or trademark of Microsoft
Corporation in the United States and/or other countries.
Cost Estimate
Users can create and print a project cost estimate that includes a bill of material for modules and inverters.
Construction, Equipment, and other miscellaneous costs can also be added.
3D CAD Enhancement
The 3D CAD Interface has been updated to enhance usability and functionality.
Multiple objects can be selected and moved at once, objects can also be put into groups for easy manipulation, and the detection of overlapping objects has been improved.
Site Design for ground based PV systems is now enhanced with the Framing Plan Setting Input window. Residential and Commercial roof design is also possible with Roof Plan Input.
Conditions List
Calculation Conditions List presents the user with an editable list of the various Conditions and Values for a project.
Click on a Condition to bring up its associated window.

System Requirements
OS
Windows Vista/ 7/ 8/ 8.1 (32bit application on 64-bit OS)

CPU
Clock 1GHz
Memory
512MB
Hard Disk
500MB of available space
Screen Resolution
1,366x768
USB Port
USB 1.1 or higher
Meteorological Data
Built-in Data
World 1,360 places (2001)
MONSOLA-11 (2012)
Import able Data
Actual measured data (CSV format)
meteonorm annual data (Over 8,000 places)
SolarGIS (TMY data)
NSRDB (SUNY 10-km gridded data)
TMY 3 data (1,020 places)
METPV-11 (2012)
Solar Module
Built-in Data
More than 30 manufacturers and 580 models
Photon Module Data (Over 30,000 models)
*Module data collected by Laplace Systems Co., Ltd. and Photon Module Data are both contained
Circuit
Configuration
Cell Type
Mono-crystalline, Polycrystalline, Amorphous, Hybrid, HIT, CIS, CIGS
Inverter
Up to 400 inverters
Number of Modules
Up to 160,000 modules
Max. Series-Parallel Module Number
Limitless within number of modules
Creatable Objects
PV Array (Up to 400 modules for each array), House, Building, Array Area, Pyramid, Prism, Truncated Pyramid, Free Form, Tree, Polyhedron, Skyline

---
The update files for Solar Pro 4.3 users
The data was updated on Nov. 11, 2015.
These files update Solar Pro to version 4.3.3.0 (zip file, approx. 20.1MB).

Please download the zip file from the link below and follow
the instructions in the included installation guide.
※This update is only for Solar Pro version 4.3. It does not apply to previous versions.