In addition to accurate monitoring function, "Solar Link Viewer" is a software eye-catching display functions. In combination with a large-sized display, you will have a great advantage in evaluating your installed system's status and effects. With well-designed graphic content and customized content, you will get a lot of attention.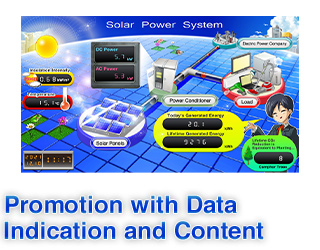 In addition to a basic monitoring screen, users can add favorite image files.
Combination with content make an effective appeal of environmental efforts and effects.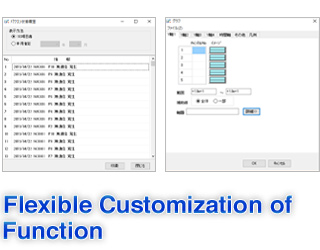 Solar Link Viewer includes monitoring, reports, graph functions as standard.
Please contact us about other functions you need.


Four types of screen designs are prepared for the general public and children.
You can select the best design depending on installation sites and visitors.

We create original screen which meet your company's images and needs.

Please contact us for monitoring and presentation systems in ODA projects.



Monitoring Specs
No. of Channels
1,000ch max.
*If you need more than 1000 channels, please contact us.
Data Capacity
Depends on the HDD capacities.
*Depending on the number of ch
Display Specs
content
Solar power generation
/Storage batteries
Monitoring Screens:1, Information Guide Screens:9, Graphs:5, Bulletin Board:1, Picture Screen, and User-provided Content Screen.
*You can change the number of photos and the user content screen.
Geothermal
Monitoring Screens:1, Information Guide Screens:4, Graphs:4, Bulletin Board:1, Picture Screen, and User-provided Content Screen.
*You can change the number of photos and the user content screen.
Image File Formats
BMP and JPEG
Compatibility
OS
Windows 10 Pro