Supports inverter monitoring as well as status monitoring of Power transaction meter or AC distribution.
Monitor up to 3 systems through one small device*.
Remote monitoring is made possible by sending monitoring data to a hosting server (contracted with us) over the Internet.
We've implemented optimal functions in monitoring terminals for remote monitoring of mega-solar systems by supporting up to 10 inverters and improving durability.

* A total of 3 inverters and/or power meters.


Specification List
ZERO Terminal Unit Specifications
Model
SLZ-T-II
Processor
Freescale IMX257
System Clock
400MHz (CPU core clock)
Memory
SDRAM:128MB, FLASH:128MB(NAND)
Ethernet
10BASE-T/100BASE-TX
Serial Port
RS-485 I/O port×2 , RS-232C I/O port×1
Image Output
None
External Dimensions
W162.0×H97.0×D35.0 mm
Power
AC 100V (dedicated AC adapter used)
Power Consumption
5W (during standard use)
Temperature Range of Use
-10 to 60°C (without condensation)
Mass
Approx 250g
OS
Linux 2.6
Contents
Contents
ZERO Terminal Unit , AC Adapter
Function Overview Table
Data Management
Save Location
Laplace System Hosting Server
Data Format
CSV format
Measuring
Number Of Inverters Connected
Maximum of 10
Measurement Target

Types Of Inverters (please ask us about supported models)
Remote I/O (M-System Co., Ltd., R3 series)

Screens
Types of display screens
* When using Solar Link ARCH

Top Monitoring Screen
Inverter Overview Screen
Trend Graph Screen

Browsing
Through Local Lan
"Solar Link ARCH Intra-Version" monitoring solution can be used in an internal intranet environment.
* Not compatible with remote monitoring and presentation system "Solar Link ARCH"
Over Internet
Remote monitoring and presentation system Solar Link ARCH

ASP service is short for "Application Service Provider" service and it is a mechanism that allows us to provide the services you desire through a web browser over the internet. Operation status and other information of an inverter acquired by the Solar Link ZERO Terminal installed in a solar energy facility is accumulated on a hosting server (contracted with us) through the internet. This information can be displayed through a web browser on a PC or other device connected to the internet as a "Remote Monitoring Screen."
Example Screen
Top Screen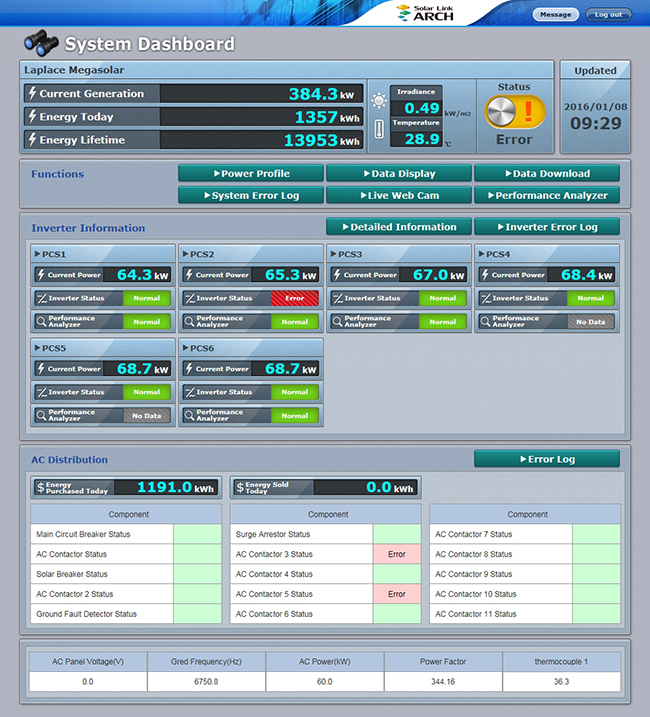 Graph Screen